2014 Shows and Demonstrations
2014 SHOWS & DEMONSTRATIONS
The association was present at two promotional events in July in preparation for the 2014 sales in September & October.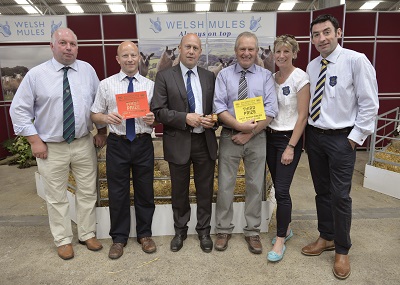 Marcus Williams with the first prize certificate for the best sheep on display at the NSA 2014 Open Day in Malvern and Brian Roberts with the third place certificate in the competion for the best sheep society stand. Pictured left to right are auctioneer Andrew Walton (judge of the competition for the best sheep displayed) Marcus, Robert Addison (best pen of sheep judge) Brian, Susie and Hamish Dykes (judges of the best sheep society stand competition)
There was a steady stream of visitors to the association's stand at the Royal Welsh Show with some potential buyers, but as is usual in the Royal Welsh, most were association members and vendors coming to inspect the sheep on display. The excessive heat throughout the four days made it difficult for all who supported the Field Officer, Marcus Williams and the association is particular grateful to everyone for their help in manning the stand which again featured sheep of excellent quality prepared by John & Richard Thomas, Tanhouse, Dole.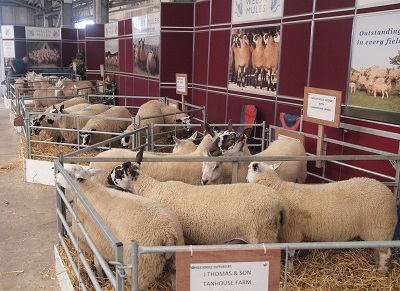 The final touches to the Association's stand before the crowd arrive
The NSA 2014 Sheep Event at Malvern on Wednesday 30 July proved to be very successful. The executive committee had decided on a larger display than usual which created more space to show the sheep on offer. Field Officer Marcus Williams, Richard Thomas, Tanhouse and Gwyn Price Hafod, Llaithddu had planned the display layout well in advance and the set-up of the stand with military precision. Their work paid off handsomely because the exceptional sheep prepared for the demonstration by John & Richard Thomas of Tanhouse and TV Hughes & Co Godrecarreg, Llangadog were shown to best effect and the association's display won the first prize for the best pen of sheep throughout the event. The stand itself, enhanced by Mary Gittins, Ystum Colwyn's floral display was also awarded the third prize for being the competition for sheep societies' display.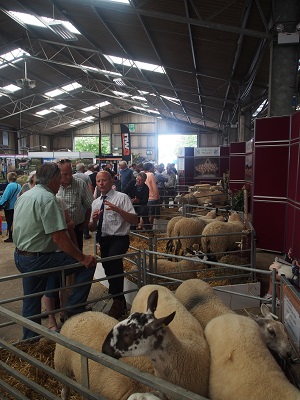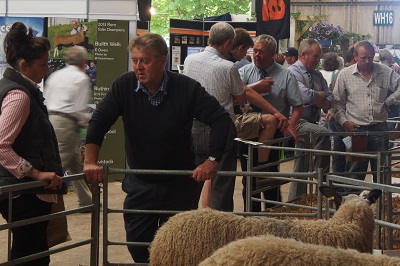 A steady stream of callers kept Association representitives very busy during the day
There was also a steady stream of enquiries throughout the day with a number of vendors enquiring about the availability of 'Performance' Welsh Mules which will be on sale for the first time at the association's sales in the autumn. Executive committee members including chairman Brian Roberts, Stingwern, Brooks and Mike Rees, Upper Pentre, Llanbister Road as well as John & Richard Thomas, Tanhouse were kept busy. Marcus Williams was confident that many of the enquiries would be converted to actual purchases at this year's sales and that the Malvern event is an extremely important event in the sheep farmer's calendar.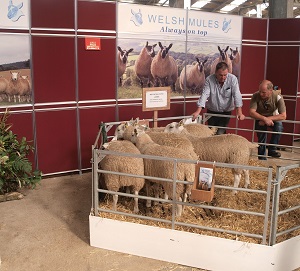 Many farmers just had to stop to view the sheep on the Welsh Mules stand that had won the prize for the best in show